Basketball Coaching Membership
The idea behind the Basketball Coaching Membership is for us to be able to help you 1 on 1 providing custom basketball practice plans, Information For Basketball Coaches, and Support for Basketball Coaches.
Membership Includes:
Custom Practice Plans
You can grab practice plans from anywhere, but custom Practice Plans are designed specifically for your Basketball team. We will be able to find out how your team plays, what skills they need to improve on, and which drills to use to accomplish this task.
Each drill in the Practice Plans will have a written explanation and then a short video explanation. This way you will be able to understand the drills and you can even email these practice plans to your assistant coach right away for your assistant to easily understand each drill.
Live Skype Calls
Each time we meet on Skype for a video call we can talk about anything you would like. Each call will have a reserved amount of time minimum for Practice Plan creation. However, if your having issues with players, parents, or teams we can help with that as well.
Unlimited Emails
As a coach sometimes you may need to bounce an idea off of another coach, I can be that coach for you. You can email me about any Basketball drills, thoughts, or strategies that you may have for un upcoming practice or game. Or, if you have any questions about the drills in the practice plan I am here for you to answer your questions.
Books Included
The great part of this membership is you receive the defensive books that Allen has wrote, so that you can have the best chance possible to win your Basketball games.
$10 off For Players Custom Training Plans
You will receive links to share with your players so that your players can receive $10 off for Custom Basketball Training and Basketball Workout Plans.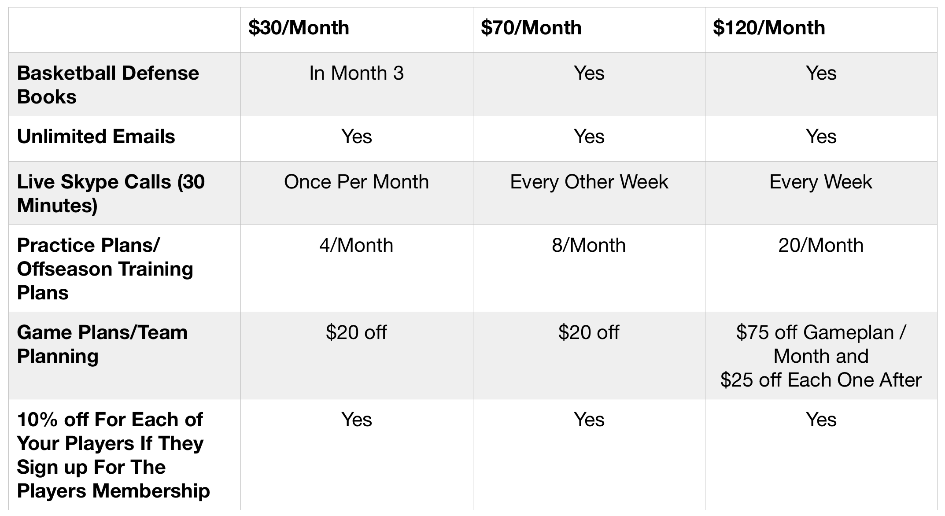 (You can cancel at any time)
Examples of Practice Plans
These examples are free, so you can use them with your team during your next practice.
U14 Basketball Practice Plan For Defense
U11 Basketball Practice Plan For Dribbling
*NEW TRAINING AND WORKOUTS WILL BE ADDED OCCASIONALLY*
© Copyright Al's Basketball